posted 08-05-18 14:02 EST (US)
---
Welcome to Stronghold Roulette

wherein I retrieve a random number between 1 and the number of Stronghold Invasion files in the downloads section and play whatever I happen to land on, after which I relate my experiences here!

I will attempt to do this every two weeks, although I'm not making any promises (I'm an adult with stuff to do, like, um, a job! Or something)

Today's number was 198, and starting from the first map ever uploaded, that got me Hibernia by Starcrystal.


#198 - Hibernia
So I'd heard the name "Hibernia" before in other contexts, although I couldn't remember which, and if you look up the Wikipedia article for it it was apparently the Latin name for Ireland. Frankly I'm not sure what this map has to do with Ireland, I don't think there were any Elven Guards there, but that said, here goes.

So you open this map and read the map description, and look at the mini map, and it doesn't really do a good job of setting up your expectations for just what will be happening during the scenario. Or, maybe it does, but I didn't hang around the scenario selection screen long enough to properly process what was about to happen.

When play began my senses were pretty well assaulted by all sorts of sights and sounds.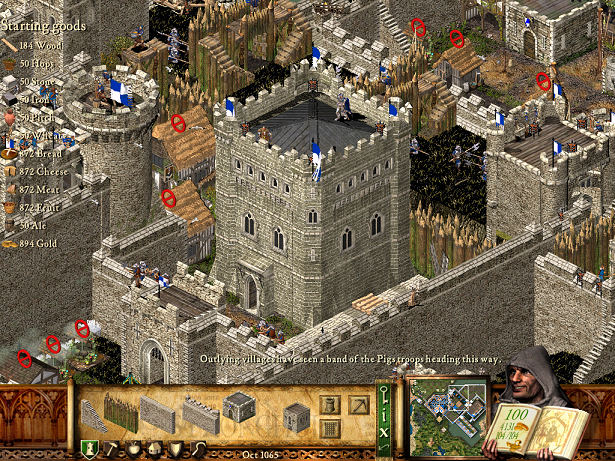 What is wait, what? Wait. What?
Someone is attacking or going to attack, basically now, and...My entire castle is filled with pitch, I have no idea what its layout is actually like, and I apparently get approximately a gazillion starting supplies. Right, so, I'm left reeling from this a bit, there is a lot to take in all at once. I don't really even know where to start, so I instinctively start pulling all of my melee forces into the keep because I don't really know why you would keep them anywhere else. After that I start looking around and see that there are a lot of wolves. Not knowing what else to do I tell my archers to target some of them. Then I realize this is a dumb idea because they will eat several of my enemies alive.

After that I spent some time telling my trebuchets to launch cows and rocks at the enemy, and wondering what on earth I should even be doing. Kill the enemy lords which are sitting out in a field, right. Okay, so, but you see, there are enemies everywhere, they all just kinda showed up. Ummmm. What to do, what to do. I have a lot of pitch here but it's all connected. I don't know when I would want to use that since I only get to use all of it once.

Also this one particular wolf decided to be a real pain. Come on man, just leave the guy alone, he just wants to go to the keep alright?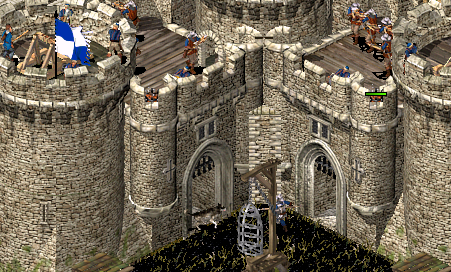 Must you?
More shenanigans ensue, the enemy is running around the map all over the place, I've probably killed six rams at this point, and they're beating down my front door. I light one of the huge blobs of pitch out front. All this time I'm training more macemen and pikemen until I've got a group of 35 and 55 respectively. If I had read the instructions more carefully I would have seen that you have to last 17 years through the invasions, but my prospects for that looked grim, so I decided to strike. So, these melee troops I brought over to the side door, after clearing it with pitch and boiling oil...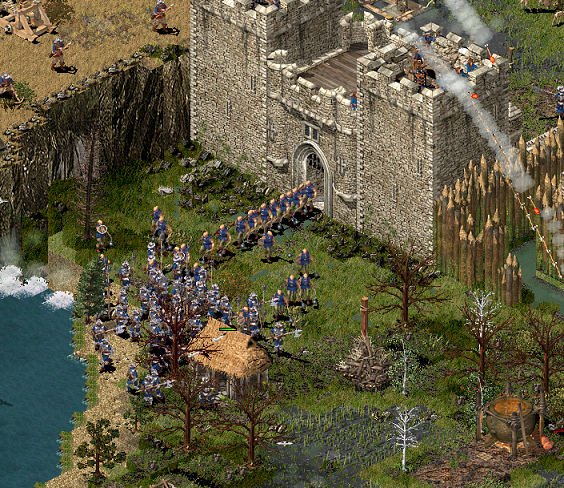 Gee, sure glad nobody's looking over here
Meanwhile my main gate is in no good way. I guess it's not really a gate anymore.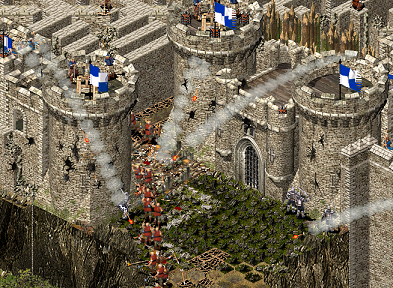 Hey guys, welcome! Come on in!
That's not really that concerning though - I still don't even know how the maze behind all that works, but if I notice huge piles of enemies filing in there, hey, I can light up my entire castle with fire.

Meanwhile I try to move what I have apparently made into my version of the Elven Guard mentioned in the story toward the enemy lords. All the errant knights seems to take notice at this point, and they are very happy that they finally have something that they can run toward and wipe off the field. But, that doesn't work out too well for them, and I come out of it with my forces largely intact. My sincere and heartfelt thanks to the pikemen. Despite that, more is on the way, so I decide to see if the macemen alone can't hurry up and finish the job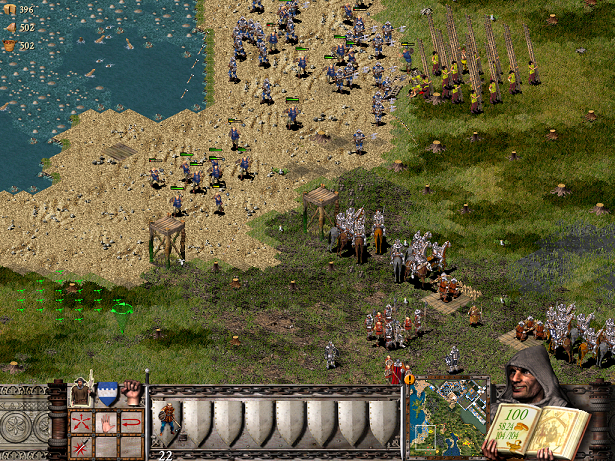 This works better than I had hoped and - oh. What? Okay, I apparently won.


Well, that was easy, I guess. I was thinking that might cancel some of the repeating invasions from the "smaller powers" at best, but, I'll take it! And apparently there was no real need to rush anything, my pikemen were coming in on time and in no real danger. Good job guys.

Wow! So, that was definitely a very fast-paced, action-packed map. I am sad that I didn't have more time to actually look at the castle and the landscape. Since everything starts right away there is hardly any time for pondering. I'm also not sure how it was that I was intended to hold out against these invasions for 17 years. Maybe once I was more familiar with the castle setup I would be able to do that, but, sneaking around the enemies on the field of battle and assassinating the lords seems like by far the easiest path to victory.

Thus ends my first foray into randomly-chosen maps.

Thanks for reading!
---
-DOOMBRINGER-
"DOOMBRINGER, make a parking space IMMEDIATELY!"
"DOOMBRINGER declares it to be SO!"
"DOOMBRINGER, I command you to lay siege to THE ISS!"

[This message has been edited by Timballisto (edited 12-23-2021 @ 12:34 PM).]